UCITS Reporting
Comprehensive UCITS reporting ensures nothing is missed – breaches/fails etc.
All your funds in a single dashboard view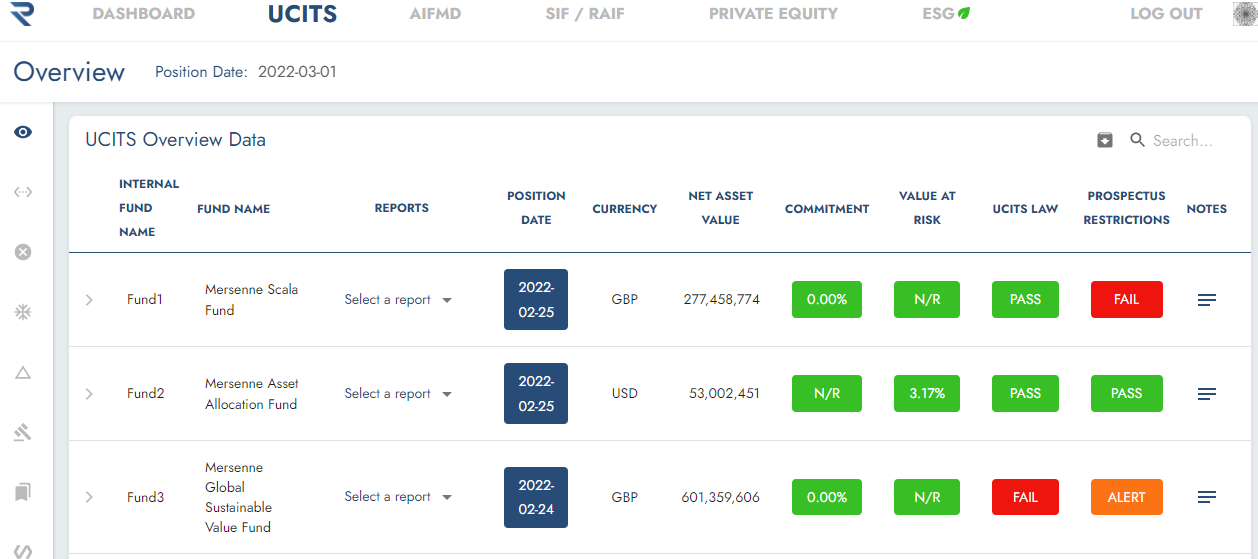 Any UCITS investment or prospectus restriction breaches are flagged immediately.
Rapid investigation of breaches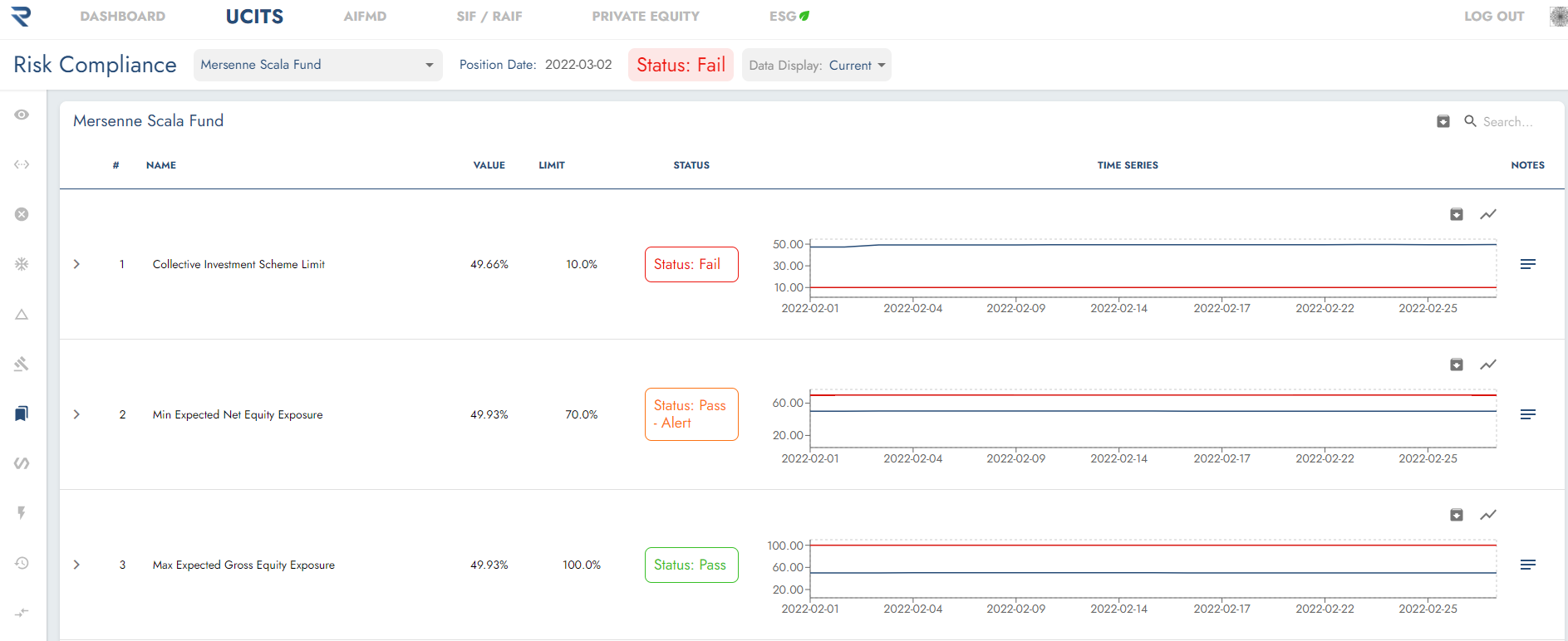 Drilling in reveals the issue and shows the history of the rule over time.
Fast drill down to individual position

Typically with just 1 or 2 clicks of a mouse, you are right down to the position level.
Audit trail

Note taking facility ensures full audit trail evidencing action undertaken. These notes can be downloaded at a later date.
AIFMD Reporting
The RiskSystem AIFMD solution ensures full compliance with all aspects of your risk obligations per the Regulations.
AIFMD Monitoring

Monitor, measure, and manage all AIFs from a single dashboard. Spot alerts quickly and identifies and remediate issues easily.
All AIF exposures displayed on a single screen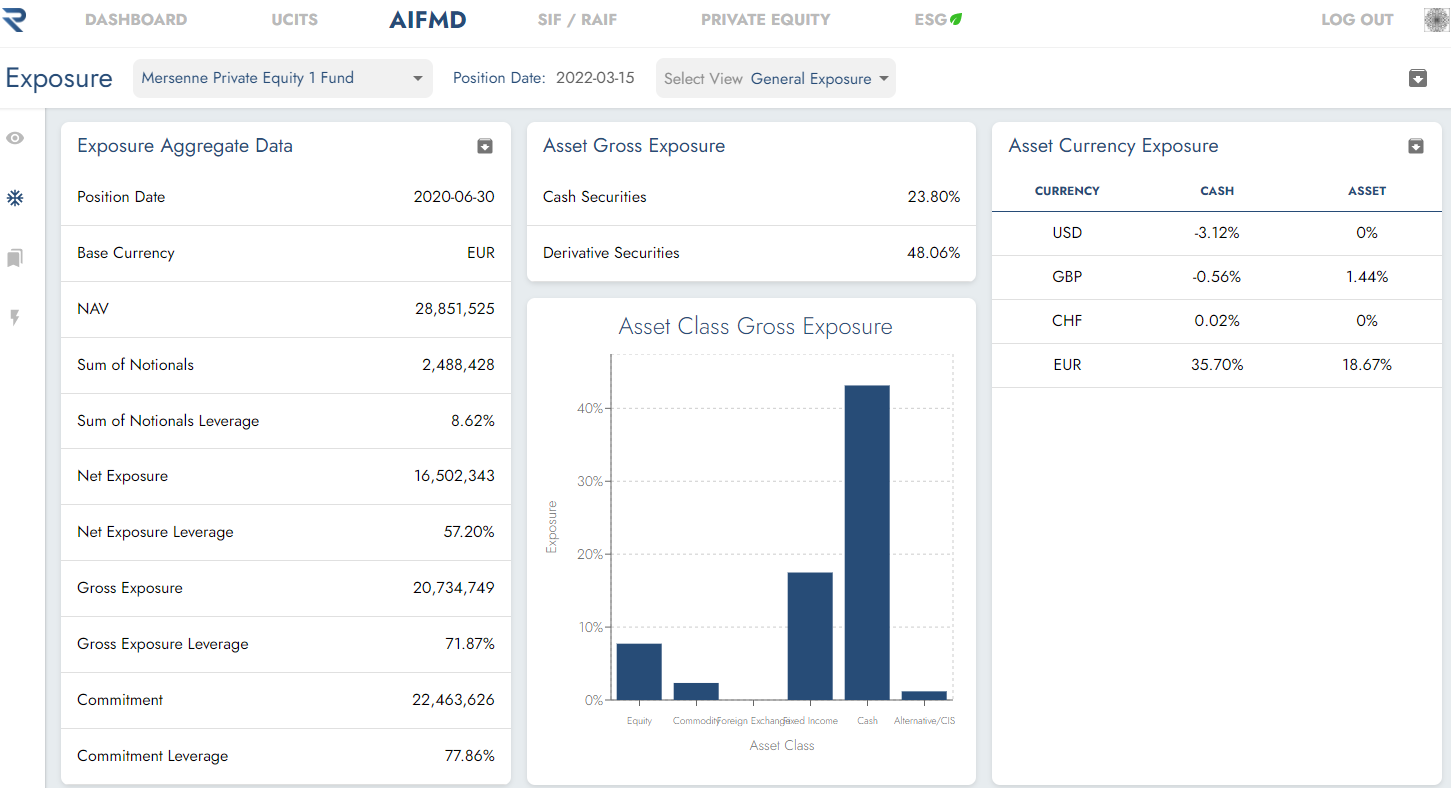 Monitor gross exposure, the sum of notionals, and commitment leverage in one place.
AIFMD limit monitoring

Easily monitor all prospectus or supplement limits  – all fully customizable
Counterparty limit monitoring

RiskSystem incorporates a full Monte Carlo Credit Value Adjustment (CVA) model that allows a fund to continually monitor counterparty credit exposure at all times. All collateral is fully accounted for in the determination of counterparty market and credit exposure.
Credit risk monitoring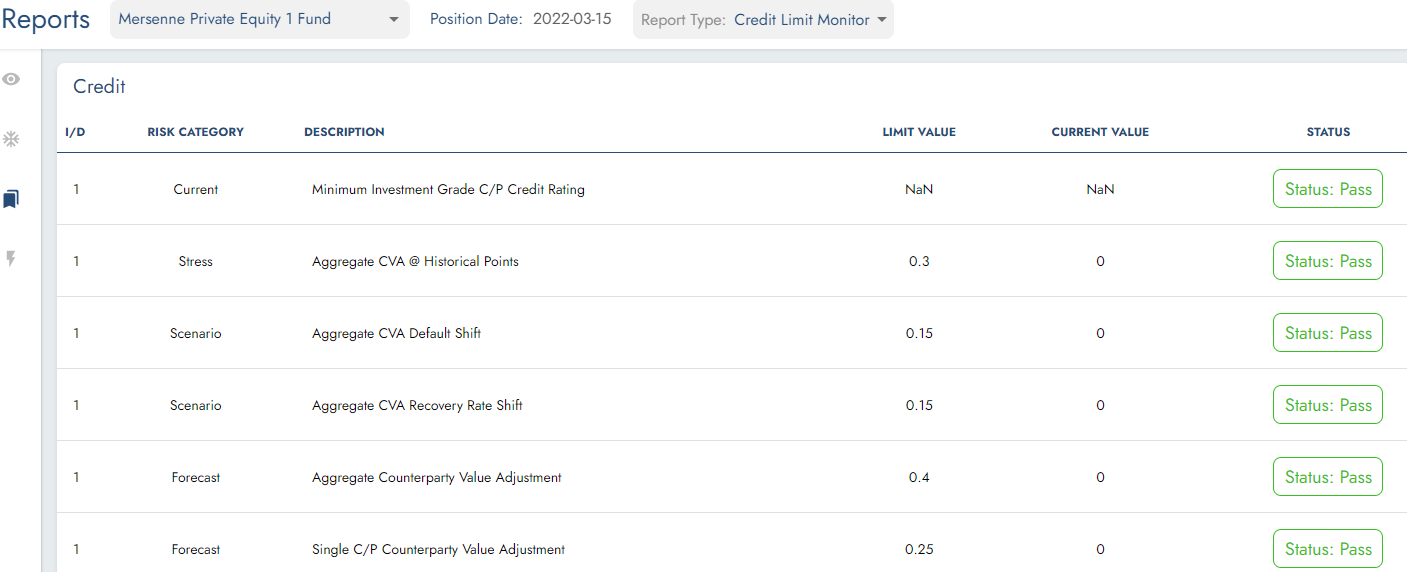 RiskSystem utilizes both a Credit Matrix Approach and the Counterparty Value Adjustment (CVA) approach. The CVA methodology is carried out by means of a user-specified monte carlo simulation for all the positions held with the counterparty.
AIFMD liquidity monitoring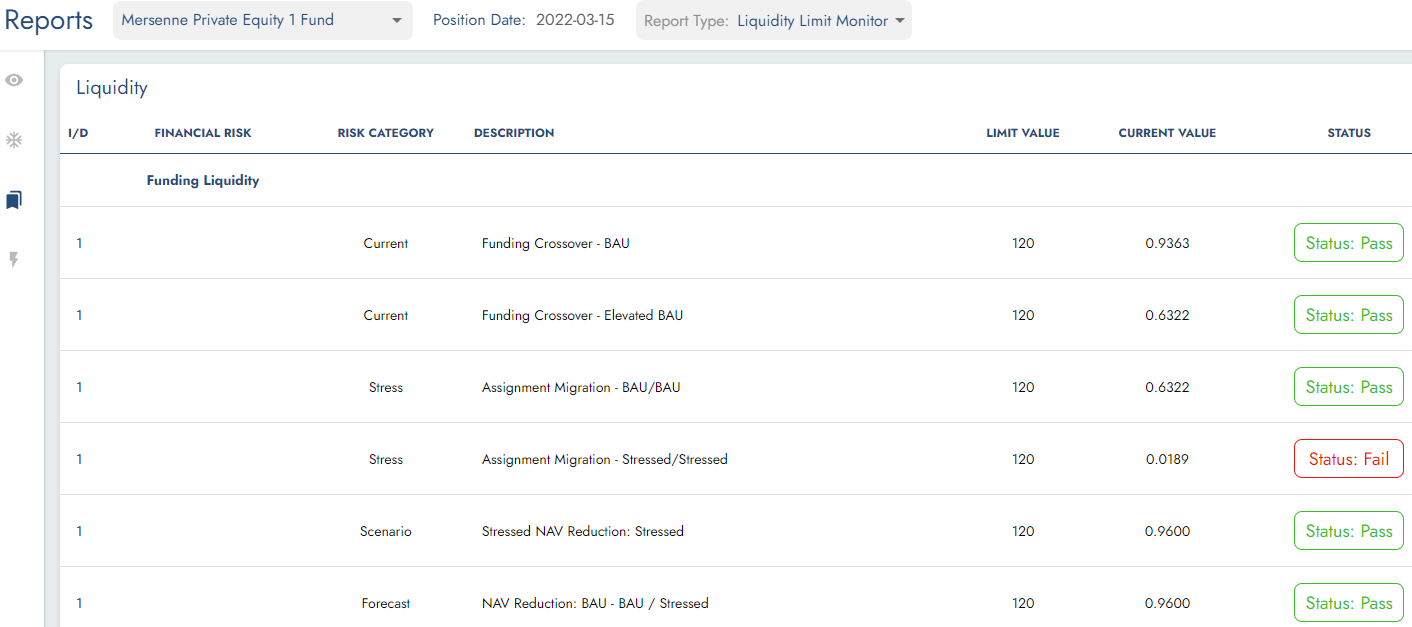 RiskSystem can monitor market liquidity in normal and exceptional liquidity conditions using hourly price feeds where both market bid-ask and market volume are used to assess the cost of liquidation of portfolios. RiskSystem also monitors funding liquidity (the risk to a fund due to redemptions by investors).
Private Equity/Real Estate
Risk Management functionality that has been specifically developed for PE and RE funds by RiskSystem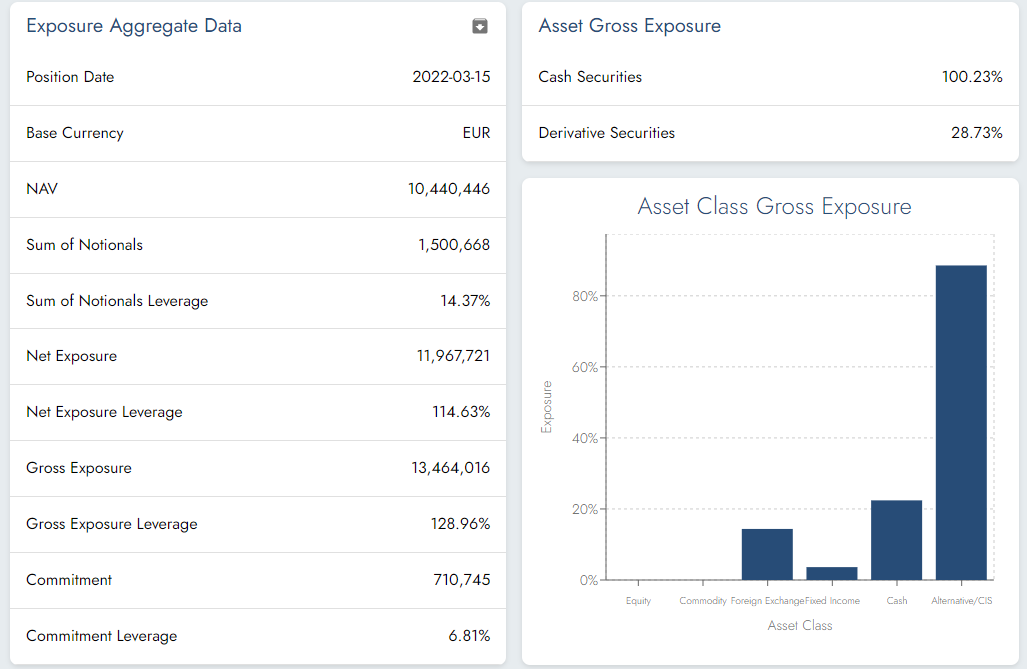 Exposure Oversight
Monitor all funds' exposure in a single dashboard
Exposure – one-click drill-down

View exposures by position to see what is contributing most to commitment etc.
Currency exposure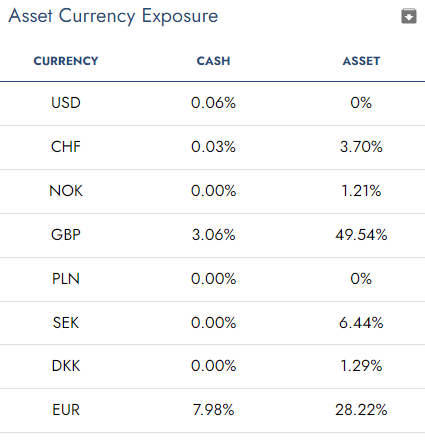 At-a-glance FX exposure
Instant exposure graphs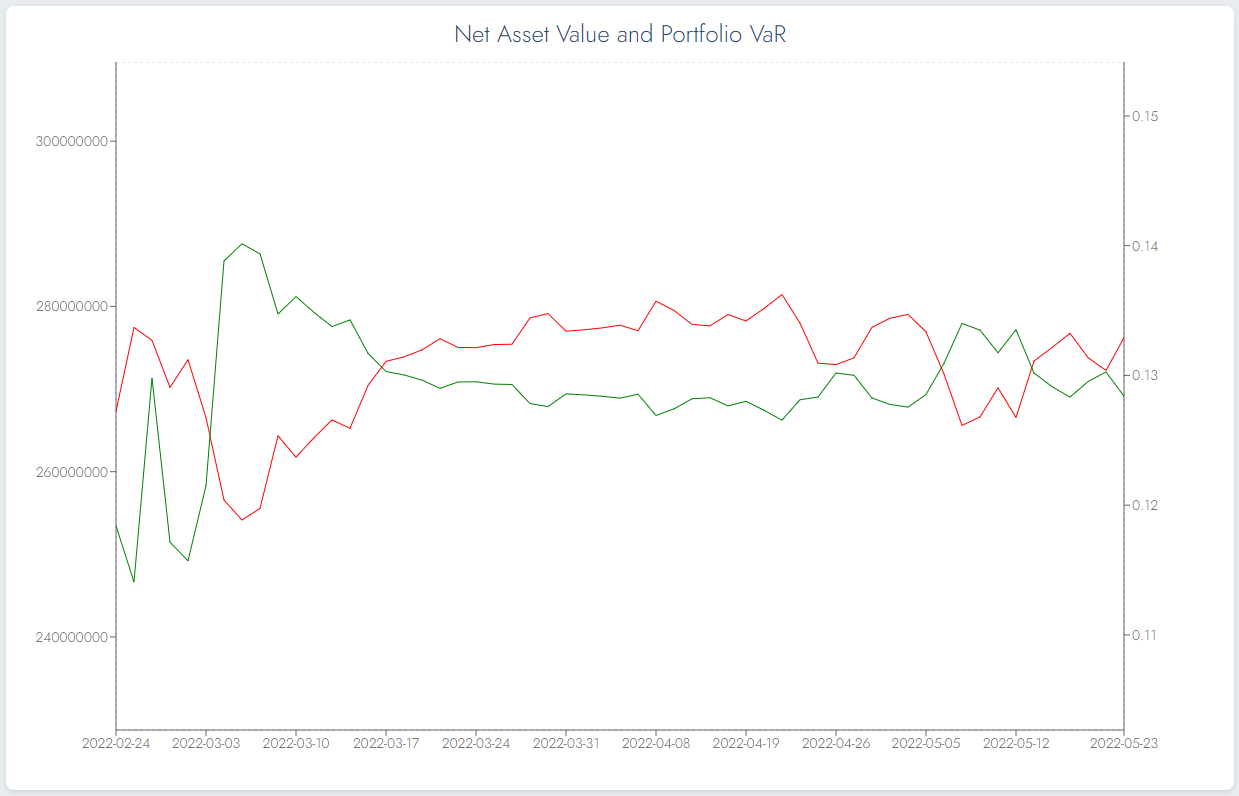 Chart any fund risk metric in the database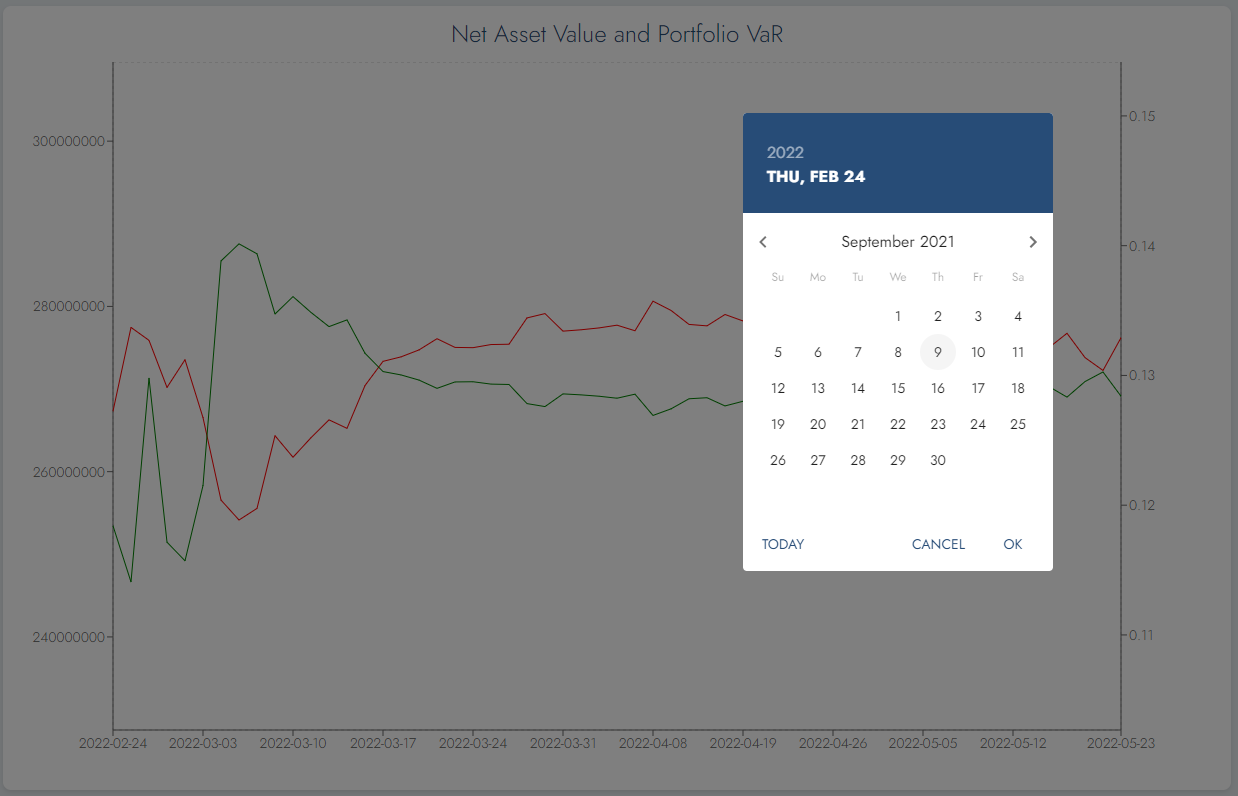 Easily change dates to view the preferred data period
Value-at-Risk (VaR)
RiskSystem operates a proprietary multi-model VaR engine that implements a variety of VaR methodologies e.g. Parametric, Monte-Carlo, Historical, Windows, Distribution etc. 
VaR bucketing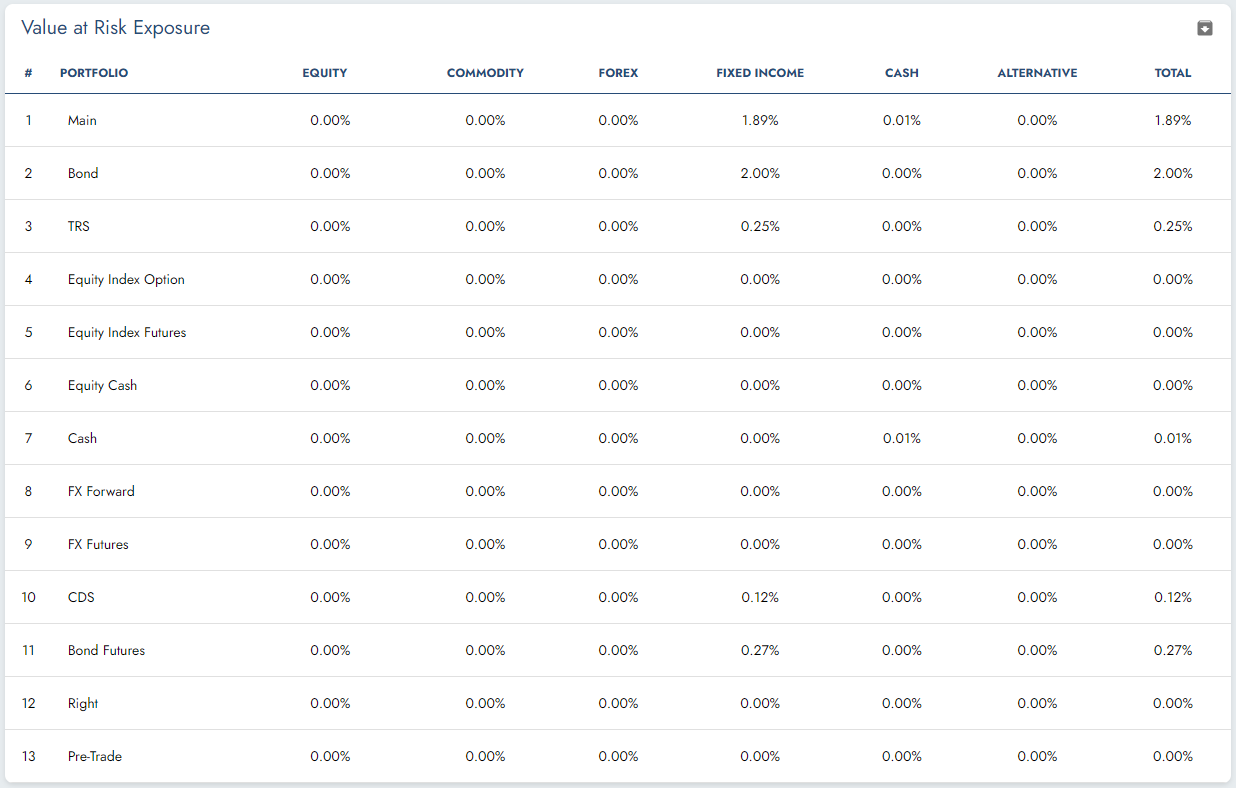 There is no limit to the ability to bucket trades – e.g. by strategy/trader/geographically etc.
VaR bucketing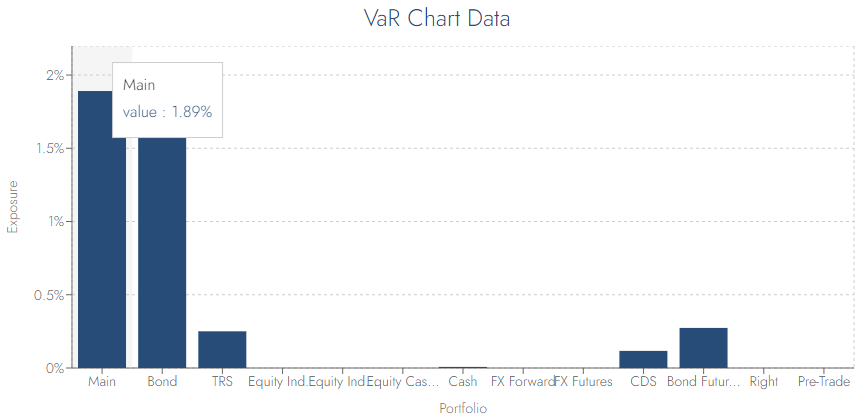 There is no limit to the ability to bucket trades – e.g. by strategy/trader/geographically etc.
Credit Risk
At RiskSystem we extract and analyse every measurement used for credit risk management on debt instruments comprehensively, providing full coverage for every debt instrument and for every sector.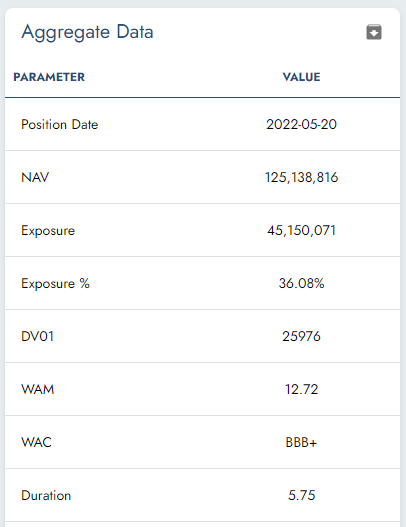 Market Risk
Our Market Risk functionality is at the heart of what we do. We offer a complete landscape of Market Risk measurements, including VaR, Component Var, Commitment, Gross Exposure, Liquidity Forecasting, Historical and Scenario Stress Testing, Option Risk Parameters, Sector Component Risk, and more, all within our intuitive and transparent Graphical User Interface – RAPTOR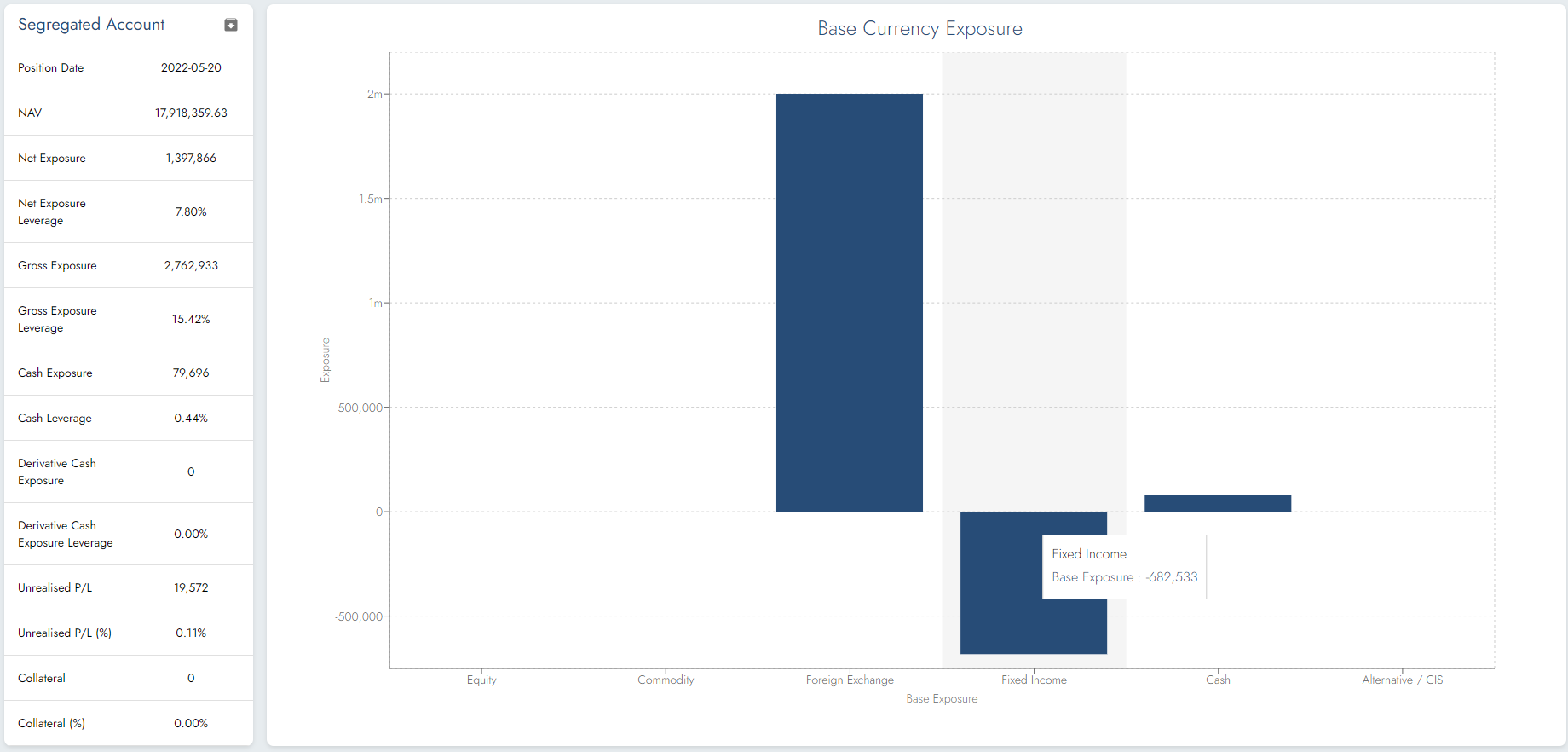 Stress Testing
At RiskSystem we carefully manage our stress testing methods to provide complete oversight over worst case scenarios. This includes our historical stress testing algorithms, which rigorously analyses the effect of past scenarios against the current portfolio with robust correlation tests and blanket downturns in measured historical quantifiers, as well as our bespoke hypothetical testing, modelling drops in asset markets, currencies, and Flight to Safety, all while tracking these effects on the P/L, Volatility, etc.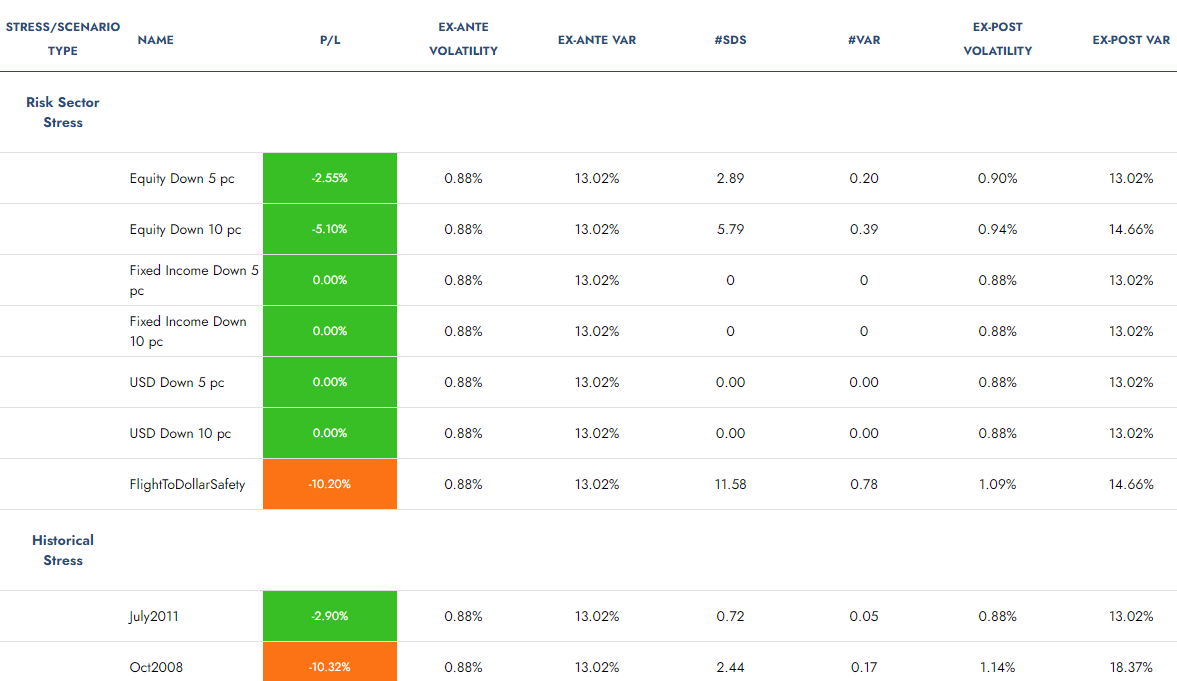 There are three main types of scenario analysis that may be carried out using RiskSystem. These are Risk Sector Stress Tests, Historical Stress Tests, and Correlation Stress Tests.
VaR Backtesting
To accompany RiskSystem's VaR models with correct validation, we provide a variety of tools such as historical back-testing, parametrical back-testing, simulations and stress testing. All VaR backtests can be conveniently exported for further reconciliation or regulatory filings, all in compliance with the UCITS VaR exceedance regulations. 

RiskSystem has full in-sample and out-sample capabilities.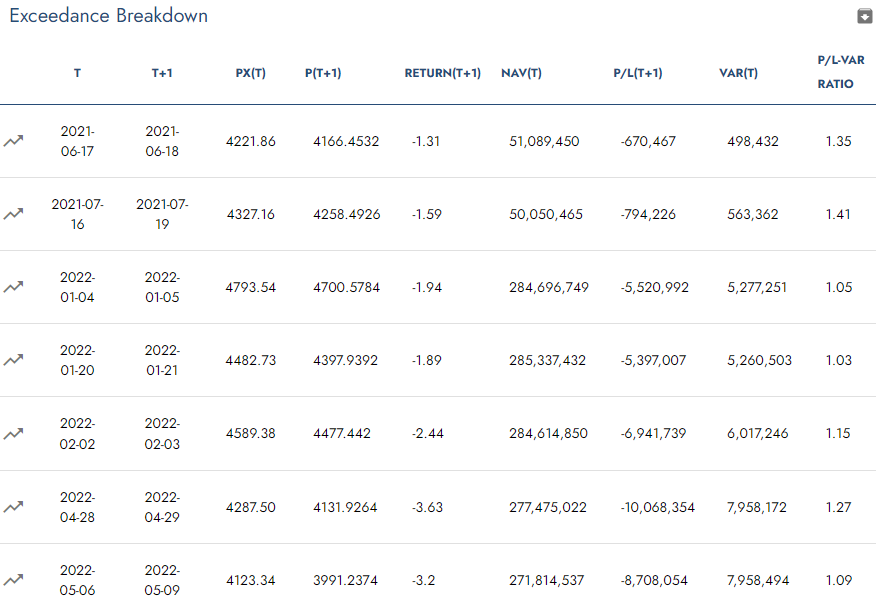 SRRI
As an integral part of the Key Investor Information Document (KIID) for UCITS funds RiskSystem monitors the SRRI according to the regulations (CESR/10-673) for all share classes, while providing exact calculation breakdowns for reconciliation and handling all edge cases such as dividends, proxies and benchmarks.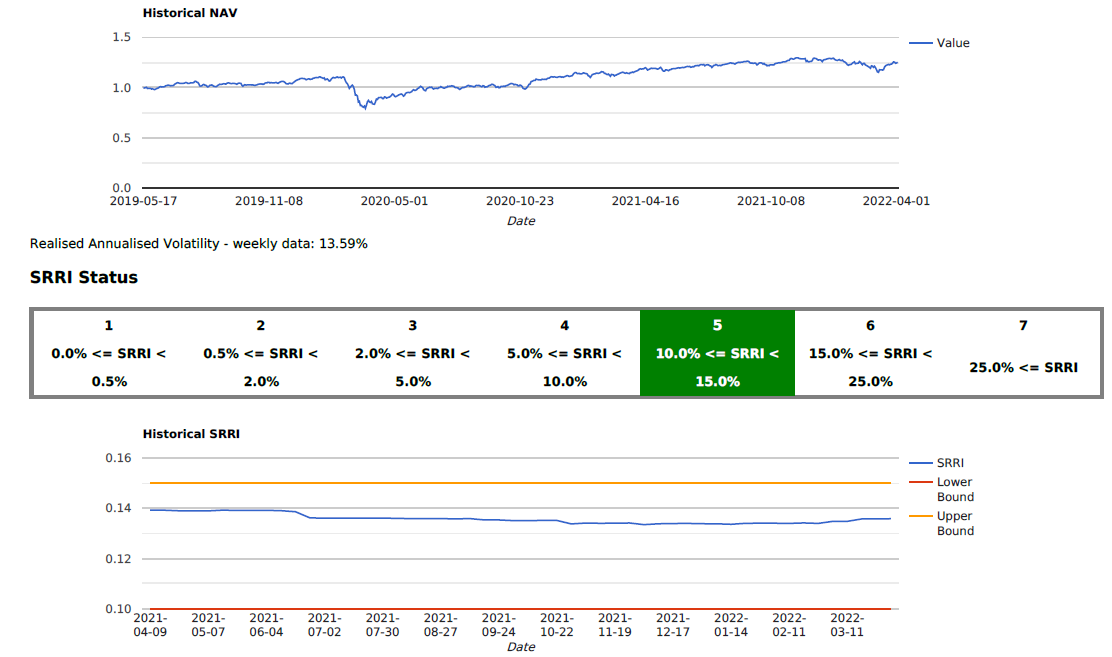 Pre-trade
RiskSystem offers a pro-active rather than a re-active process to portfolio alterations. Using our Pre-trade functionality, our clients can pre-enter positions into their portfolio and assess the resulting effects on their fund's risk exposures and compliance before entering them in the market.
Tracking Error
RiskSystem's Tracking Error engine calculates the divergence between the price behavior of the portfolio and the price behavior of a benchmark. RiskSystem can be configured to monitor the Tracking Error for any timeframe, any benchmark and other fund specific configurations.
Key Features
RiskSystem offers many advantages over competing risk solutions Integrated
The risks of any number of sub-funds are integrated into one portal. Customisable
All functionality and reporting can be tailored to clients requirements.

Comprehensive
All instruments and fund types covered.

Scalable
Our internally developed functionality – automated risk profiling – ensures rapid onboarding of new funds removing any constraints on growth of funds under management. Full Managed Service
Sourcing, cleansing, enriching and processing all data from any preferred source in any format is our responsibility. Secure
All data and risk analytics are stored in a highly secure private cloud.